Spring is here! The birds are singing, the grass is growing, and you're fretting. After all, Father's Day AND graduation party season are right around the corner… and you aren't even finished spring cleaning! Even as Father's Day approaches – that's June 18th, in case you've forgotten – and the hopeful and excited graduating class of 2023 await their iconic celebration, we guarantee this: you ARE up to the task of hosting the perfect event! Let's get you started with planning a wonderful outdoor party! Some fresh ideas will make your event unforgettable. Whether you're planning your sun-soaked gathering to be large or small, trust the product experts at Twin Star Home for tips and tricks to make your event unforgettable.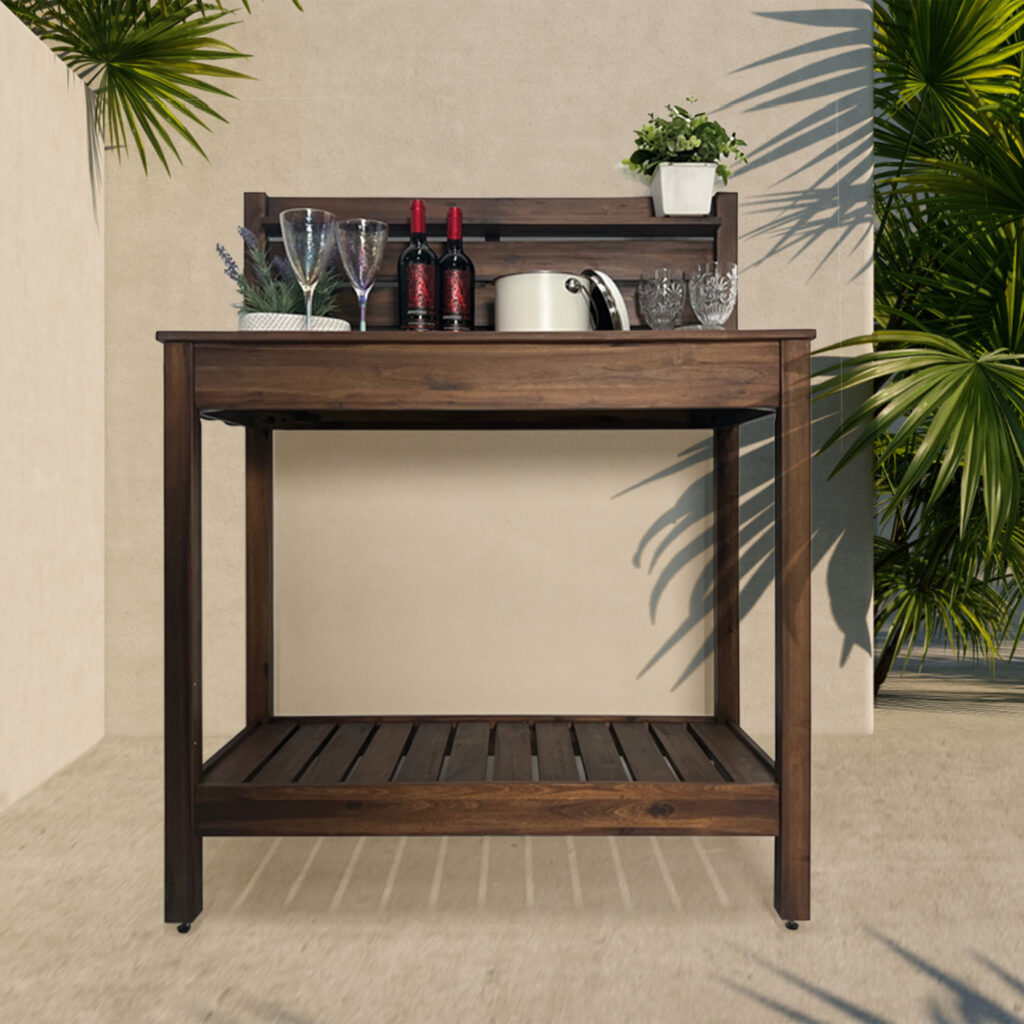 Activate the Activities!
It's time to get competitive! Or get collaborative, if that's more your speed. Of course, we're talking about games – every party needs them! Love horseshoes? Badminton? Or even pickleball? Even if the main event is as simple as outdoor Pachisi with an iced tea in hand, having an event planned (or available) makes everything more fun for the busybodies in your group.
Yard games are always a hit. Consider making available Wiffle® bats and balls, a bocce or croquet set, or even a pre-installed net for a quick pickup game of volleyball! Of course, your guests who are more physically active are going to get thirsty as they labor for victory on that backyard grass. Keep plenty of drinks available, and even consider keeping the beverages on the front line. This Jordie potting bench has a built-in bucket that's perfect for holding ice and your favorite bottles of brew or soda for your backyard warriors.
Of course, having a place to play is essential! For outdoor boardgames – or even the more pick-up games like Connect Four or Checkers – it's a great idea to have surface areas set aside and additional seating so the gamers in your event can get their game on. Consider this stunning 7-Piece Outdoor Conversation Set with Coffee Table and End Table – it's perfect for comfortable seating while you and visiting wee ones attempt a game of Candyland or Shoots n' Ladders together.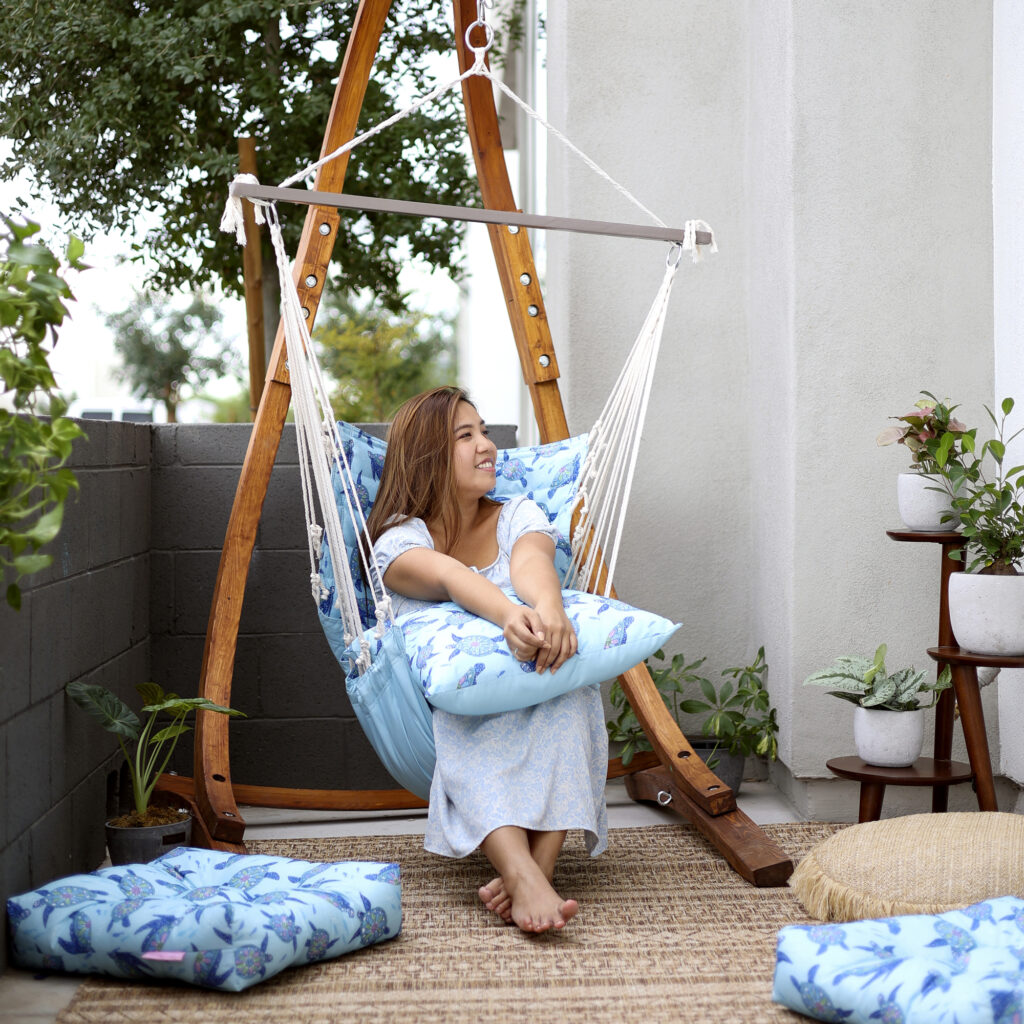 The Perfect Place to Relax
Let's face it – the best parties are the ones where you can chat and be yourself… even if your true self is snoozing on the lawn under a friendly sun. For the more laid-back types in your party, keep plenty of seating on hand. A big hit would be hammocks or even hammock chairs, like this incredible Classic Accessories Water-Resistant Chair Hammock by Vera Bradley – and bonus! It has a turtle print that's perfect for laying back and soaking up the sun like your favorite reptile.
Don't neglect the indoors, either. For a lawn party, you'll be tempted to dote on your patio space, but the truth is that the indoors matters, too. Keep bathrooms tidy for those who feel the call of nature. Also keep a few indoor sofas or chairs indoors free from clutter for those introverts in our party (we DO exist, after all) who need to re-up their energy levels after listening to Uncle William's fifth telling of his 1992 visit to Hawaii.
Food (and Drink) for Thought
Feeding the masses can be overwhelming! Though you might be tempted to take a more ambitious angle with plenty of macaroni salad, cupcakes, pickle platters and more, here's something to remember: KEEP IT SIMPLE. Do as much grilling outside as you can to give yourself, and your kitchen, a break – dogs, burgers (veggie and the meat variety), buns and condiments. Don't forget to employ friends and family to make the job easier. After all, there's nothing like some bonding over a sizzling grill! Consider a large (though simply dressed) salad with some disposable plates and napkins to keep things light and healthy. These are the elements of a successful outdoor event for a reason: they're affordable, they're simple to prep and clean up after, and they are always crowd pleasers!
No matter what, HAVE FUN! You'll run yourself ragged if you try to be a superhero on party day, and let's not forget: the memories you make with family and friends are the biggest treasures you'll glean from events like these. And remember to keep an eye turned on our blog here at Twin Star Home as we explore everything this vibrant season has to offer. Now go forth, and party hard!