Changing leaves, new fall fashions, and the holidays on the horizon – it's easy to see why autumn is a favorite season for so many. Just as you've pulled out your favorite sweaters, gone on a fall baking frenzy, and started planning holiday parties, your home furnishings also need an update for the season. To help you enjoy your coziest autumn yet, these six home furnishings will make curating a fall oasis fun.
1. A TV Stand Perfect for Fall Entertaining
When diving headfirst into fall, we usually think of enhancing our home with candles, incense, and seasonal décor. For style-oriented hosts and hostesses, the right furniture at home is also a must. Having pieces large enough to store throw blankets and pillows, while organizing your movies, music, and board games is especially important for fall entertaining in any space.
Offering the best of both worlds, consumers love the TV stand pictured above. Not only does it have over 1,000 5-star reviews, it's also perfect for storing essentials of the season. Two cabinets on either side offer space for throws, pillows, board games, and more. The center media shelf provides a spot for your cable box, media console, or autumn décor. Sliding barn doors can conceal stored items for a neat look that banishes clutter in an instant.
2. An Electric Stove Heater
An easy change that can help create a cozy feeling in any room or nook is adding a duraflame® electric stove heater, shown above. This popular stove heater helps you save money with supplemental zone heating, so you can turn down your thermostat and heat the space you're in – when and where you need it. And it's a charming look that works with a variety of design styles.
3. Ample Storage Meets Commanding Style
For those who prefer home furnishings with a more modern look, this sleek sideboard (pictured below) is a dining must-have. It offers all the functionality you need and ticks all the boxes for bringing a fresh look into your home. A double door design and adjustable interior shelves make it easy to design a custom storage solution, while the large ring statement hardware is sure to collect compliments from your guests.
4. For Ambience and Ease, Try an Wall Hanging Electric Fireplace
To enjoy all of the beauty of a real fire with none of the hassle, we suggest an electric fireplace with realistic flames. The ClassicFlame® Wall Hanging Electric Fireplace from Twin Star Home conserves floor space: no extra logs, dirty kindling, or ash here! Set the scene while watching the kids play or spreading out on the floor for a board game.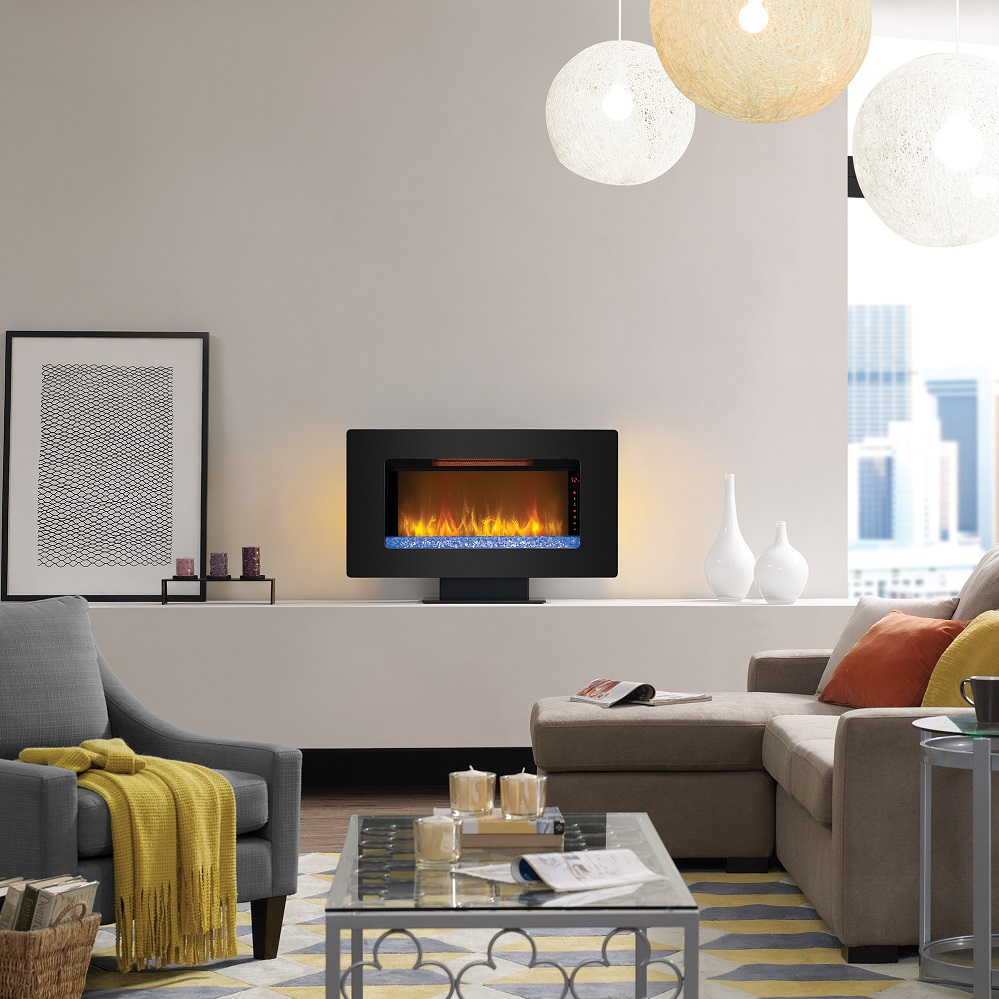 As everyone snuggles into their favorite chair, they'll love watching the realistic roaring fire complete with lifelike glowing flames. LED lighting offers five color options for a personalized fire experience. The Wall Hanging Electric Fireplace also gives you the option to choose translucent fire glass, ivory river rocks or driftwood to suit your home's aesthetic. Thanks to infrared heat, you can enjoy added warmth throughout the room without drying the air. Infrared heat allows everyone to breathe easily and prevents uncomfortable sinuses and scratchy throats.
5. Bar Cabinet
If your vision for the perfect autumn evening involves taking in that romantic sunset with drinks for two, then a bar cabinet is one of the coziest home furnishings you can have this season. The one pictured below has been hand-picked by Kelly Clarkson can be styled in a variety of ways to enhance your home décor. With room for stemware and up to 12 bottles of your favorite wine, this bar cabinet makes it easier than ever to relax at home. Best of all, the tempered glass top protects the cabinet from spills and makes cleanup simple.
6. Home Furnishings that Make Fall Coziness Portable
Electric fireplaces are a great way to heat areas in your home without raising the thermostat throughout the entire house. But odds are you aren't always working, watching TV, or having a meal in the same room. A portable solution is this duraflame® Electric Lantern with Infrared Heat (shown below) that gives you comfort and warmth wherever you go.
A lightweight design makes the lantern easy to carry. You also get a flickering candle effect with this lantern heater that really sets the mood for a quiet night in. Get a warm mug of cider ready and slip on your fuzziest pair of socks…you're never going to want to leave home.
Find Your Fall Home Furnishings Today
Now is the perfect time to prepare for the coziest time of year. Grab your pumpkin spice latte and find all of the fall home furnishings you're dreaming of when you visit our blog page. For more home décor inspo, check out @TwinStarHome on Instagram, Facebook, and Pinterest.