If you're new to the idea of owning an electric fireplace, we're here to give you the scoop on all the reasons why you'll love having one. From saving money to staying healthy, electric fireplaces have tons of benefits. Keep reading to learn why they are the best addition for your home this winter (or any season)!
1. Better for Your Airways
Wood burning fireplaces release dangerous fumes, like carbon monoxide, into your home. Even logs that produce less smoke will still result in harmful pollutants that decrease the air quality in your home.
Electric fireplaces, however, have zero emissions and no hazardous byproducts, which can be a blessed relief for those with allergies and medical conditions like asthma. The infrared heat helps maintain the natural humidity in the room so everyone can find relief from those extra dry winter nights (your nose will thank you!). Plus, electric fireplaces give you a toasty fire without smoky odors settling into carpets, couches, or clothing.
2. Energy Efficient
Electric fireplaces are able to heat rooms faster and more efficiently than most traditional wood-burning fireplaces. According to the EPA, "most traditional open fireplaces lose over 90 percent of the fire's heat out the chimney, and much of the heated air in the room goes with it." With an electric fireplace, rooms warm up quickly and stay warm.
LED technology is used in most of our electric fireplaces, which consumes less energy, lasts up to 50,000 hours, and stays cool to the touch. Additionally, there is no deforestation involved with enjoying an electric fireplace, so the forests will be happy too.
3. Save Money
Electric fireplaces are also more cost-efficient, thanks to supplemental zone heating. By lowering the thermostat by 10-15 degrees and adding electric heat to the room that you're in the most, you can reduce the use of wasted energy and save up to 10% on your gas bills.
Electric fireplaces also save you from costly chimney cleanings, service checks, and maintenance fees. With a traditional fireplace, you can expect to pay anywhere from $7,000-$10,000 or more on installation. Meanwhile, an electric fireplace allows you to simply plug it in and enjoy.
4. Low Maintenance
Having the ambiance and warmth of a fireplace is much easier to enjoy when there is no maintenance involved. Skip the frequent ash and soot cleanings with an electric fireplace. There is no need to get into uncomfortable positions to clean, light, or tend to the fire. With an electric fireplace, you can just sit back, relax, and use the remote to control the fireplace from across the room.
5. Enjoy an Electric Fireplace Anywhere
Those living in apartments, condos, small homes, and even recreational vehicles seldom get to enjoy the warmth and ambiance of a cozy fire. With electric fireplaces, you can enjoy the dancing flames in any indoor area. An electric fireplace, like this one pictured below, is perfect for a smaller space, like a reading nook or under your desk in your office.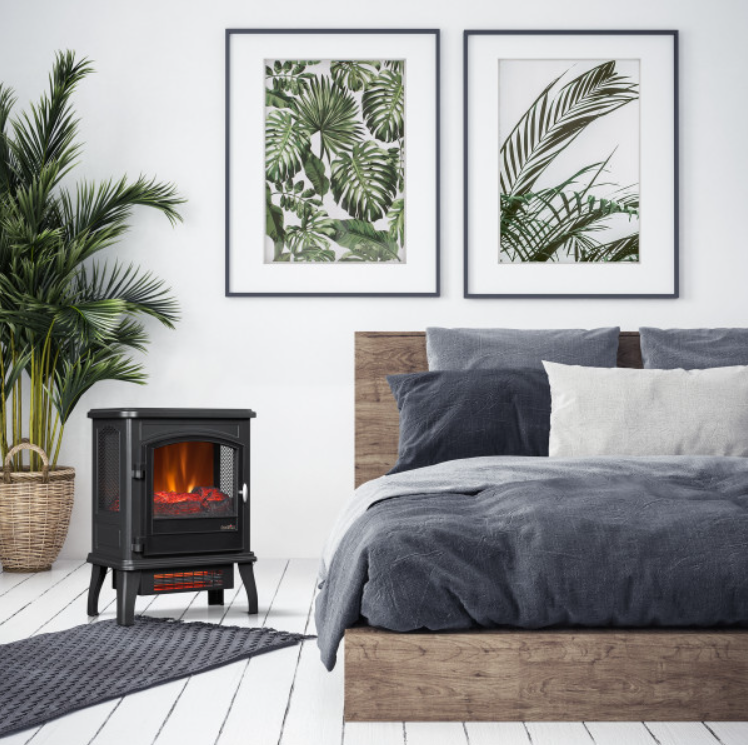 6. Longer Lifespan
Electric fireplaces have a longer lifespan when compared to their wood burning and gas burning counterparts. Because they are not a combustible energy resource, electric fireplaces are not susceptible to rust and corrosion. Use one for several years and it still looks as new as the first day you got it.
7. Easy Installation
One of the best things about electric fireplaces is the ease of installation. It is a one-step process! All you have to do is plug it in and you are ready to enjoy. On the contrary, wood burning and gas fireplaces are costly, time consuming, and just a hassle to install.
8. So. Many. Options
Electric fireplaces come in a plethora of styles. You can easily find a look that matches your design theme, whether it's traditional, contemporary, coastal, or modern farmhouse. An added bonus? On many of our models, you can customize settings such as brightness, flame speed, and more to suit your needs.
You can also find your ideal size with Twin Star Home. We have fireplaces built into beautiful mantels and TV stands, allowing for extra storage that is also stylish. Other options include electric log sets and compact electric fireplaces that can be moved around from room to room.
9. Safe for the Whole Family
Although electric fireplaces can produce enough heat to warm a room up to 1,000 square feet, they remain cool to the touch. Without the issue of hot metal casings, electric fireplaces are a safe to use around kids and pets. Automatic overheat protection also reduces the risk of fires resulting from the overheating of electronics.
10. Use Electric Fireplaces Year-Round
Since heat and flame effect controls are independent, anyone can enjoy the cozy glow of an electric fireplace. Even during the warmer months! Use them with or without heat, leaving to experience the ambiance of a gentle rolling fire. Homes in all climates can set the mood for any occasion, in any room, all year long.
Do You Love It or Do You Love It?
For more tips and tricks on keeping your home toasty, safe, and clean all winter long, check out our blog page!