The countdown is on: fall is almost here! We can taste the pumpkin spice lattes now. As we get ready for all things fall, we look to protect our outdoor investments, like RVs, travel trailers, camper vans, and more. Whether it's your first time owning an RV or you're looking for new accessories, we have got you covered.
A Perfect Family of Brands
If you own an RV, chances are you might be feeling a bit wistful right about now. We're finishing up the summer season, which means recent travels and fun locations are still fresh in our minds. We may be reflecting on special memories with our home away from home and feeling nostalgic about not using it until next year.
Fortunately, our family of brands has got you covered. The combination of Classic Accessories and Twin Star Home means you can get a sturdy cover for the outside of your RV, as well as an electric fireplace or personal space heater for the inside of your RV. As the #1 Market Leader in Electric Fireplaces, Twin Star Home gives you a wide variety of options for those crisp autumn nights. With thousands of happy customers and 5-star reviews, we have just what you need this fall season; let's look at some of our favorite collections.
Fall Must-Haves for Vans & Smaller Campers
If you have a camper van or a Class B RV, we recommend a smaller space heater, like the duraflame® Portable Electric Personal Cube Space Heater, pictured below: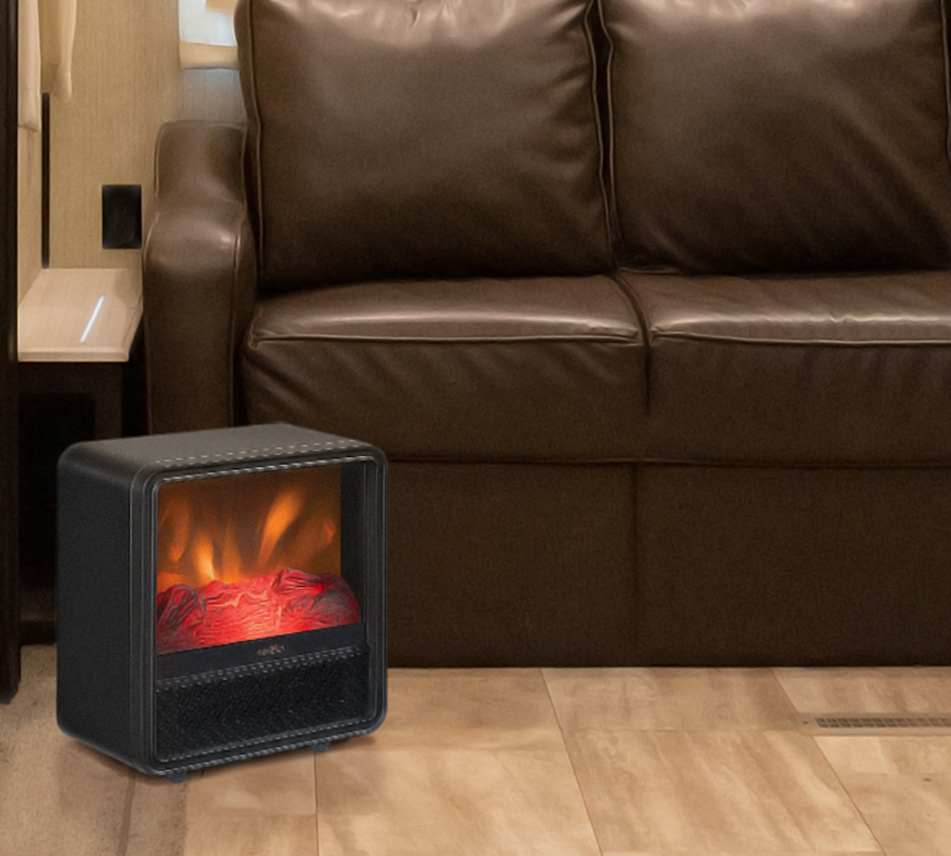 We love this heater for several reasons: one, it provides toasty supplemental heat for up to 400 square feet, so it's ideal for warming up smaller spaces quickly. Secondly, it's designed with realistic logs and a flame effect, which adds style and charm to any space. But best of all, its compact size and cord management system make this heater the ultimate companion for simple storage and on-the-go lifestyle.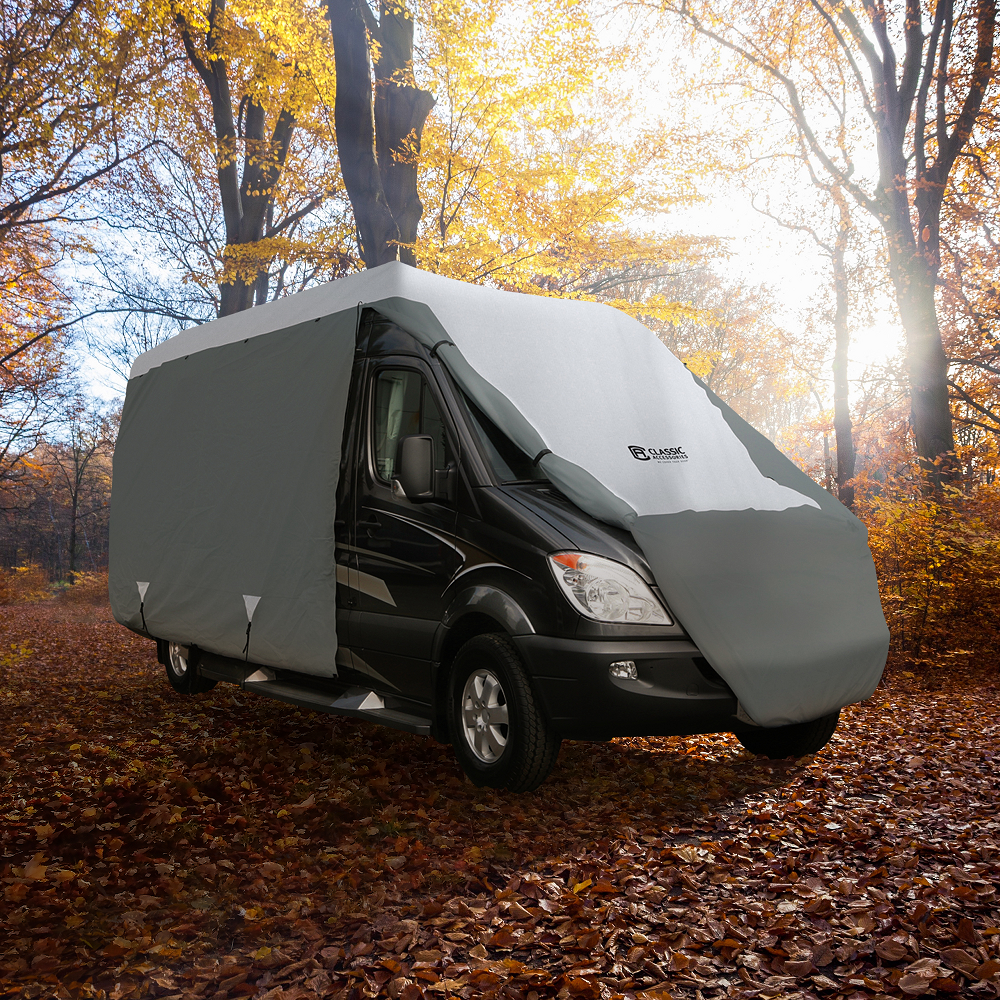 When you're back from your fall getaway, protect your investment with this sturdy Classic Accessories Over Drive PolyPRO3 Deluxe Class B+ RV Cover, shown above. The Over Drive collection is best known for the thick PolyPRO3 material. Named after the triple-ply fabric top, PolyPRO3 covers are designed to resist rain, wind, snow, sun, and debris.
Another option is the duraflame® Infrared Quartz Log Set Heater with Black Grate (featured below). The rustic logs and black grate can transform your RV into a serene mountain cabin, whether you place it in a customized fireplace or set it in a cozy corner all on its own. The infrared technology produces heat that warms you instantly, even as it heats a large area. This log set is perfect for small and larger spaces alike, with the ability to heat up to 1,000 square feet.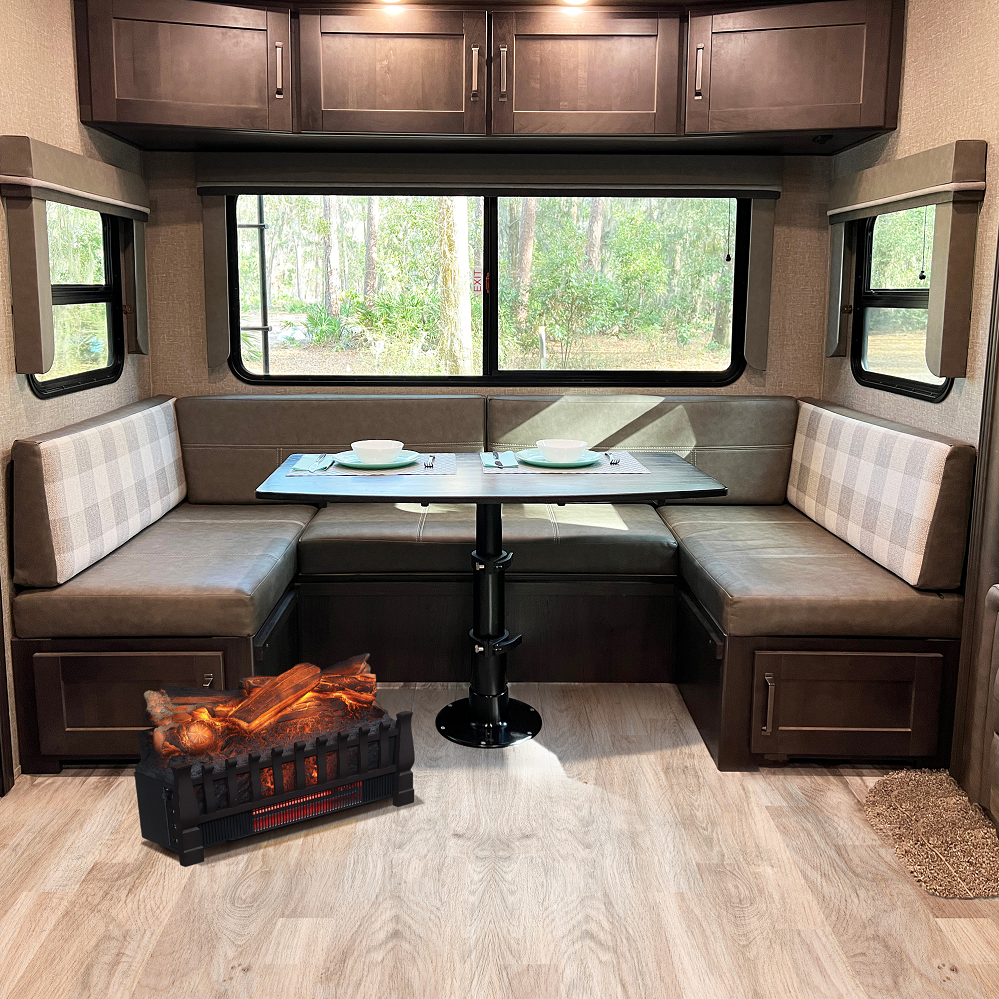 This log set is also a great companion for the Classic Accessories Over Drive PolyPRO 3 Camper Cover (pictured below). Like the Class B Deluxe Cover, the heavy-duty triple-ply fabric top makes for a strong defense against the winter weather, and the access panels in the back are easy to unzip and roll up quickly.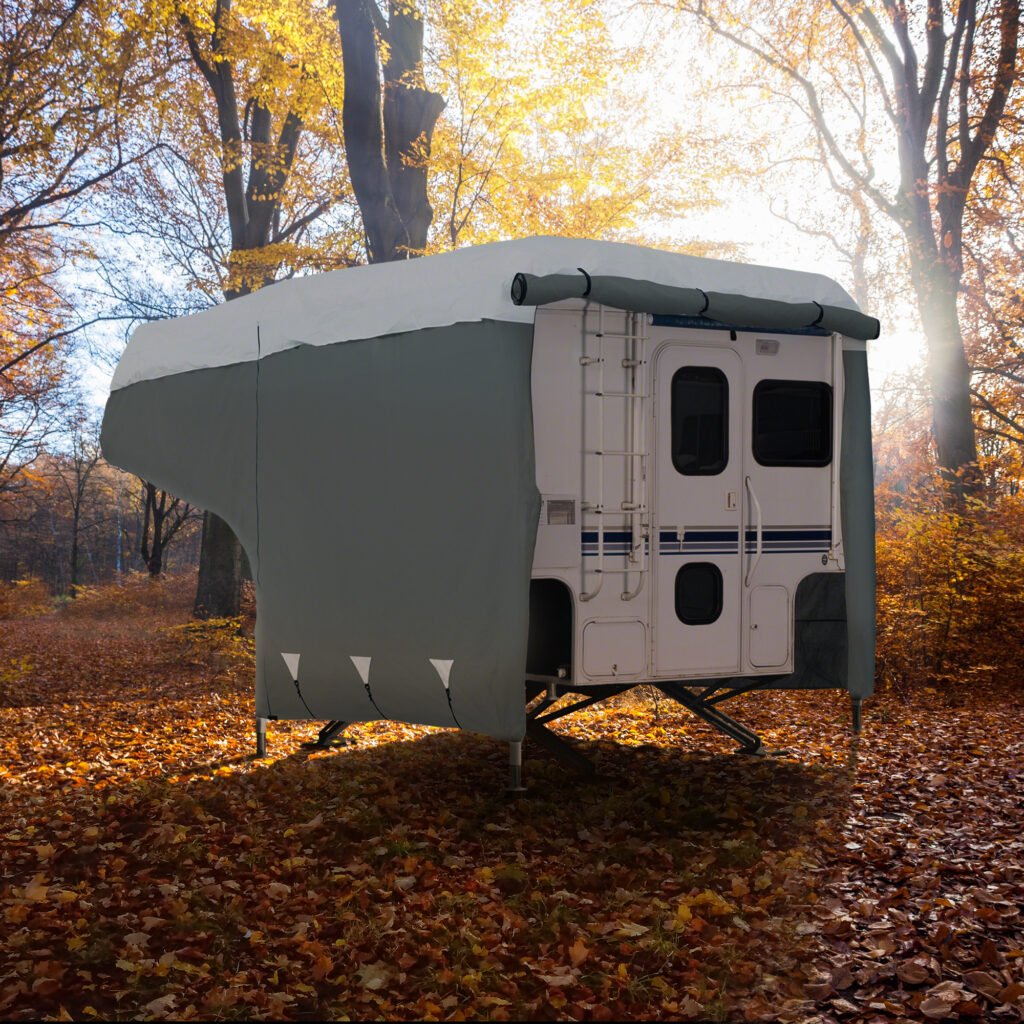 For RVs Big or Small, We Cover it All
For larger RVs, we suggest the Classic Accessories ProTop4 Travel Trailer Cover, Model 4, pictured below: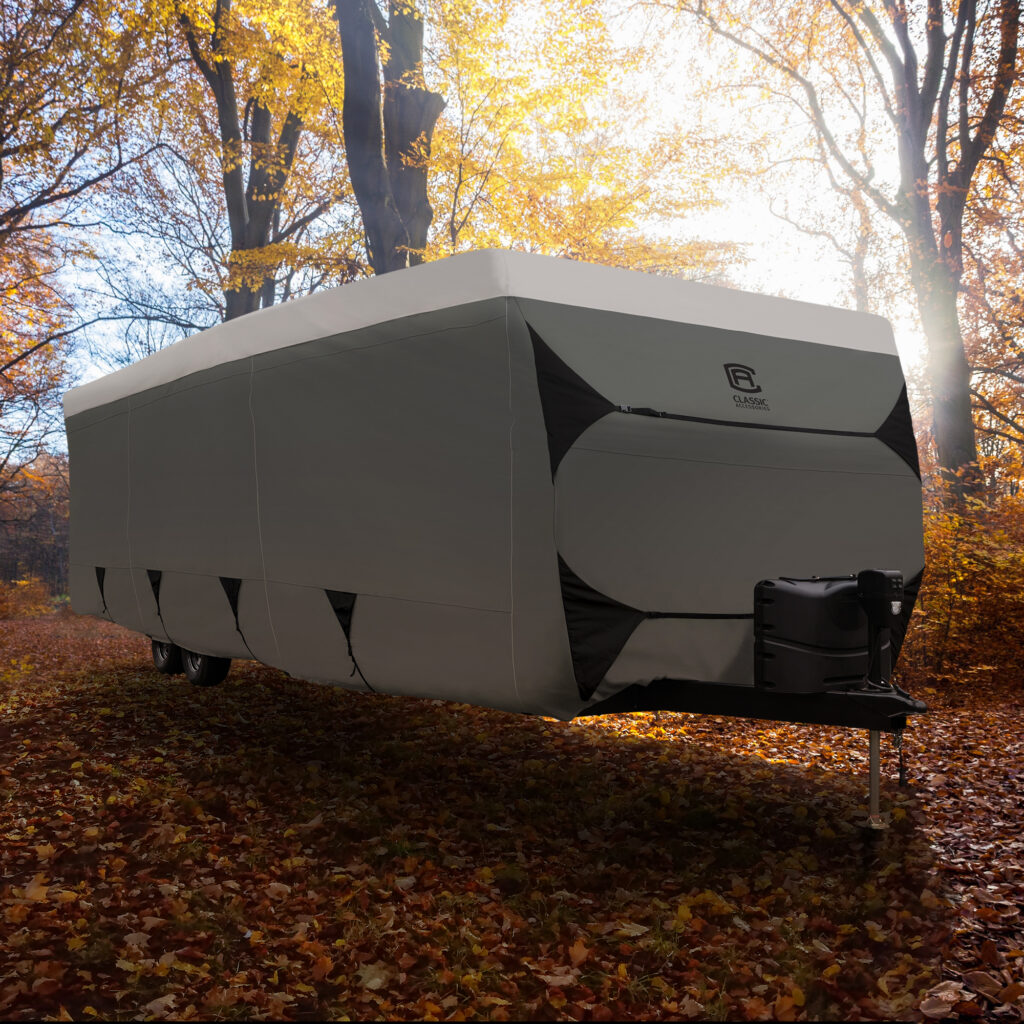 RV owners know all too well about the careful installation process that comes with covering these large recreational vehicles. Fortunately, we make installation simple and quick thanks to an integrated strap system with click-close buckles and a weighted toss bag.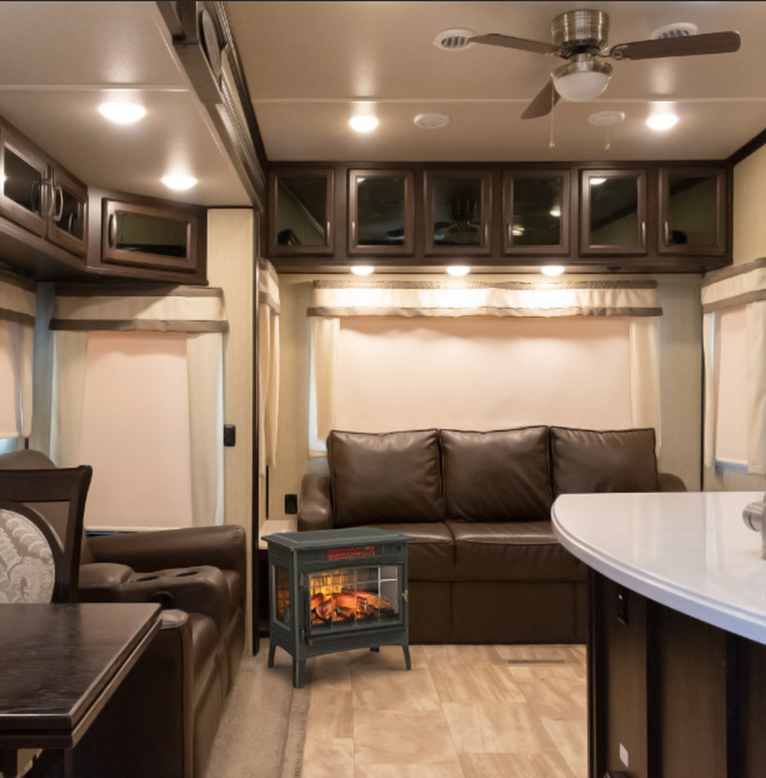 One of our most versatile heaters is the duraflame® Electric Infrared Quartz Fireplace Stove with 3D Flame Effect, shown above. Available in a wide variety of color options, this charming stove heater comes with five adjustable brightness settings, a realistic flame effect, and infrared heating that warms up to 1,000 square feet without drying out the air. We especially love how this heater's thermostat can be adjusted for all the seasons. As the outdoor air temperature changes, you can enjoy the relaxing quality of the dancing flames and glowing ember bed of a fire year-round without getting too warm. A customer favorite, this electric stove heater creates a stylish atmosphere no matter the season when you use the flame effect even without heat.
All Your Home Décor Needs in One Place
Want to update your home with fresh styles? Now you can! From long-lasting outdoor sectionals to beautiful TV stands with electric fireplaces to sturdy outdoor furniture covers, our family of brands gives you everything you need for your indoor and outdoor spaces. Subscribe to our newsletter to learn more (and get exclusive discounts!)