One of the best things about the fall and winter seasons is enjoying cozy, peaceful moments with friends and family. And nothing says cozy like gathering around a beautiful, warm fireplace. Thanks to our patent pending 3D Flame® effect, achieving a realistic-looking fireplace is easier than ever. But if you'd like to add a little more ambiance to your electric fireplace, read on for our top five tips to creating a sweet set-up.
1. Add Personal Style to Your Electric Fireplace
Electric fireplace inserts are fantastic for saving space and money. Why settle for a TV stand next to a fireplace when you have both in one furniture piece? This fireplace below gives you plenty of space for seasonal décor. From family photos to the kids' art projects, anything can be safely placed on the wood finish.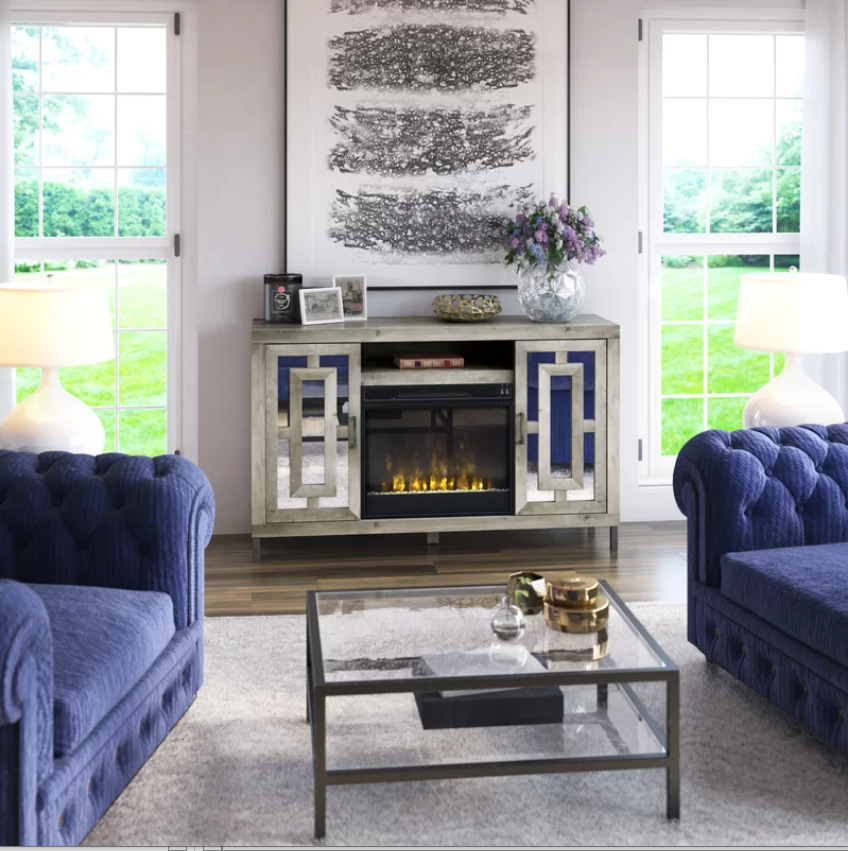 2. Dress up Your Electric Fireplace with Candles
That warm feeling that we get while sitting by a fire doesn't just come from the heat. The flickering light has a way of calming the mind and putting us in a peaceful state. Complement the glow of your electric fireplace with candles. We especially love scented candles, like vanilla or sugar cookies. Even when they're not burning, decorative candles make everyone feel right at home.
3. Use Coordinating Colors
If you have a wall-mounted electric fireplace, you're already halfway there to creating a cozy living space. Wall-mounted fireplaces are versatile because they showcase a sleek, minimalist appearance. Create a sophisticated look by installing your wall-mounted fireplace on a matching wall color, or use a throw blanket with the same color theme. Using coordinating colors gives you and your guests a soothing feeling.
4. Add a Luxurious Area Rug
One of the advantages to having an electric fireplace, like a duraflame® electric stove heater, is cleanliness; there's no risk of embers or dirt flying into your space. Add a decadently soft rug for the ultimate in cozy vibes. And while you're at it, don't forget to add matching throw pillows in the same color or texture. They are perfect for setting a romantic scene with your partner or creating fun game nights with friends.
5. Update Your Artwork
Think of artwork as an accessory, like earrings or a new purse. It's a little change, but it can really make a difference to the overall look. Whether your aesthetic calls for a realistic nature scene or an abstract piece, a simple change of art can instantly refresh your space.
Interior designer and star of HGTV's Luxe for Less, Michel Smith Boyd likes to take a different approach to artwork and mantels.
"I think there's so many ways to style mantels and I try to take it a little bit more contemporary," Boyd says. " I layer artwork, as opposed to having the traditional mirror or the family portrait above it. And seeing more than one piece of artwork [takes off pressure] because there's so much pressure to pick that one, right? Choose three!"
Need more helpful styling tips? Browse our blogs for ideas and inspiration!