Can't decide whether a TV stand with electric fireplace is worth it or not? We've got answers. Everyone has different needs, but many people are surprised to learn about the unexpected benefits that electric fireplace TV stands offer. From financial savings to bringing everyone together, there is something for everyone.
Below, we delve into some of the reasons why an electric fireplace TV stand might be right for you and your family. If you're also interested in learning more about the different types of TV stands with electric fireplaces, we'll have some awesome products for you to browse along the way.
A TV Stand with Electric Fireplace Can Actually Save You Money
Over time, your TV stand with electric fireplace can actually pay for itself. Especially if it's replacing a the mess and hassle of a traditional fireplace with a chimney. So even though it may cost slightly more than a standard TV stand, the investment is worth it in the end. And it's all thanks to supplemental zone heating! What is supplemental zone heating, you ask?
Electric fireplaces give off real heat. It's true that the flames are simulated. However, the warmth is very real. There's an electric heater inside that generates the heat your home needs. This allows you to use a heat source only when and where it's needed – like in your living room when you're watching TV. By running the electric fireplace, you can still feel warm without having to heat the whole house. And that's supplemental zone heating! As a result, this allows you to cut back on your monthly heating costs and save yourself some green.
While every model is different, some TV stands with electric fireplaces can even produce enough heat to warm a small apartment. Infrared quartz heat in stands like the one above from Home Depot can warm up to 1,000 square feet. With that in mind, you can definitely count on the fireplace to warm your living room. Because anytime it's cold outside, you can just snuggle up, turn on your favorite TV show and relax. You'll be warmed up in no time.
You Can Use It Year-Round
Depending on the electric fireplace you select (or any of them, if you select one from ClassicFlame®), the flame effects can be operated with or without the heat on. That means your electric fireplace doesn't have to be just a winter weather feature of your living room. You can enjoy the atmosphere of your electric fireplace all year long! While the flames flicker, dance and possibly even change colors, the fireplace fills the room with an inviting ambiance. Even when the sun is blazing and the temperatures are pushing 90 degrees Fahrenheit.
Not only do some models allow you to switch off the heat while still basking in the cozy glow of the fire anytime you want, but some models might even include a fan feature. The Tresanti® Kerrigan TV Console with CoolGlow® 2-in-1 Electric Fireplace and Fan seen above is a great option for year round comfort at home. Warm summer nights are suddenly a breeze when you turn on the oscillating fan and enjoy some lounge time.
A TV Stand with Electric Fireplace Offers Everything You Need and More
In terms of TV stands, most people only have a few requirements. It needs to be the right dimensions for the room. Also, it needs to be able to hold the existing TV. And it needs to look good. Often, people also look to see how much storage it offers. With an electric fireplace TV stand, you're not sacrificing any of that. In fact, you're making even more space in your home by combining two pieces furniture into one. Take the TV stand with electric fireplace below, for example.
This TV stand includes a three-sided electric fireplace, offers quick and easy assembly, has plenty of cabinet storage, and still holds large flat screen TVs up to 80 inches and up to 90 pounds. The addition of the fireplace doesn't take away anything, but rather adds warmth and comfort to your home instead. The stylish design and ambiance with a panoramic view of the fire from any seat in the room doesn't hurt any either!
Electric Fireplaces Make the Best Home Decor
A fireplace is a great focal point for a room because it sparks conversation and fosters a cozy, comfortable atmosphere for entertaining guests. Everyone can gather round, watch TV, and enjoy the glow of the fire. Family game night? Romantic date? Relaxing with a good book? An electric fireplace makes the perfect backdrop for so many occasions throughout the year.
On top of that, some electric fireplace inserts come with a whole host of cool features. For example, some allow you to change the colors and adjust the brightness of the flames. Those with 3D Flame® Effect technology from ClasssicFlame like the one above produce realistic flames that dance on and behind the logs or fire glass. Many models also offer different speed settings as well as timers with automatic shut-off. With features like these, you have complete control and can set the mood for the entire room and for any occasion.
Exclusive Safety Features
It's also important to know that electric fireplaces are very safe. They won't damage your TV, electronics, or furniture. They don't produce smoke or smells. There's no mess and very little maintenance. Plus, many models from ClassicFlame feature exclusive fire prevention technologies. Safer Plug® is one such patented technology that monitors the temperature of the plug and shuts the unit off if it becomes too hot. Patent-pending Safer Sensor™ is another innovative feature that alerts you when the heater is obstructed and will automatically shut off to prevent damage. You'll only find it on products from Twin Star Home® and ClassicFlame that have doors that can cover the fireplace.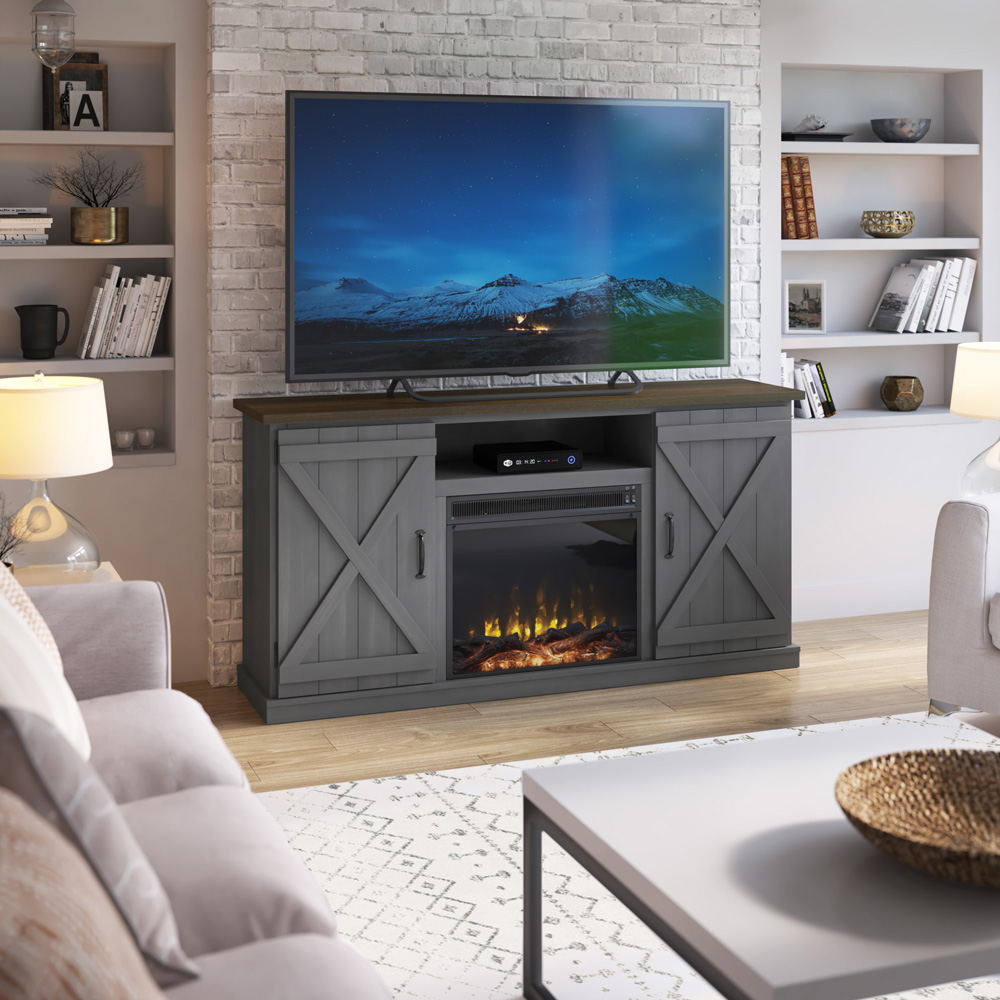 Upgrade Your TV Stand
So, are TV stands with electric fireplaces worth it? We think yes, but we'll let you decide. Shop the entire selection from Twin Star Home and don't forget to follow us on Instagram, Facebook, and Twitter for the latest products and styling inspiration!